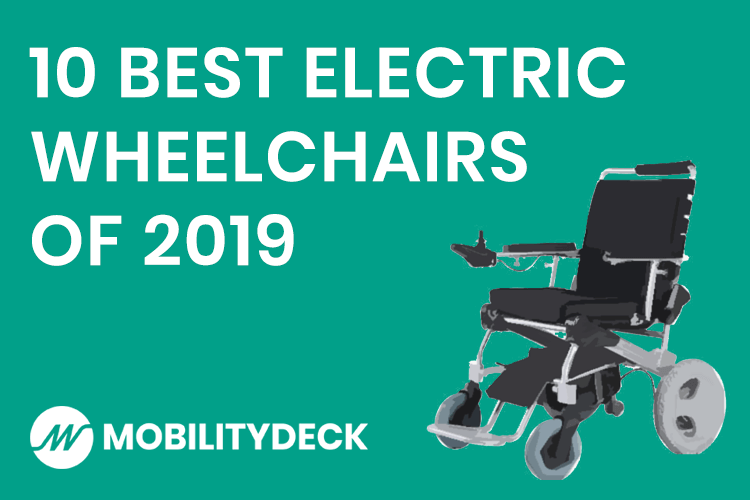 The Best Electric Wheelchairs (2019 Reviews and Analysis)
Choosing which electric wheelchair to buy can be a big decision. Whether you're looking for increased mobility or you want to find newfound independence for yourself, it's important that you make the best decision based on your own circumstances.
The market for electric wheelchairs over the past few years has grown massively. There are now hundreds of options to choose from at all types budgets.
Whilst this means that there will be the perfect power chair out there for you, it does make it harder to find it.
Thankfully we've reviewed dozens of electric wheelchairs to identify the best of the best and we present them here in our comprehensive guide to electric wheelchairs.
Lightweight electric wheelchairs, wheelchairs for the elderly, heavy duty electric wheelchairs, foldable power chairs for travel – we've looked at them all, compared their attributes, and found the best ones.
The 5 Top-Rated Electric Wheelchairs
Who Should Buy an Electric Wheelchair?
Generally speaking, electric wheelchairs are designed for people who don't have the necessary upper body strength to control a manual wheelchair.
However, there are no hard and fast rules in this area – there are many power wheelchair users who are perfectly happy using a manual wheelchair indoors but would prefer something to assist them outside their home.
If purchasing an electric wheelchair is something you've been thinking about, it might be worth going visiting a store and trying one out. They aren't for everyone, and some people feel more independent using manual wheelchairs.
Of course, some people love to travel in the outdoors and perhaps go on vacation. For these people, buying an electric wheelchair can be a great idea. With batteries that last for hours upon end, there is little more fun that exploring a new city without the exhaustion.
That said, to truly benefit from an electric wheelchair, there are a number of considerations that you need to make before purchasing.
Not every electric wheelchair is suitable for everyone, and making such a significant purchase should not be taken lightly!
Important Features to Consider
An electric wheelchair is usually quite a big, expensive purchase. Here are some of the things you should be considering when selecting one:
Indoor Mobility
If you intend to use your electric wheelchair in your home, there are a few important things that you need to think about. For example, you wants to to determine the turning radius of the chair. Most manufacturers list this number on their product pages, however it's worth reading reviews to see how accurate those numbers are in reality. In addition you need to be thinking about seat height and width, you probably want a wheelchair that is around the same height as your bed and you also want it to be able to fit through all of the hallways in your house.
Getting In and Out of the Chair
If you are able to walk short distances, you shouldn't have much trouble getting in and out of any electric wheelchair without assistance. However, if you are not so mobile then you will need to consider how easy it is to get in and out of your wheelchair. Look into whether or not you need swiveling chair legs or rotating arm rests. If you require a hoist to get into your wheelchair, you need to make sure that it is will be compatible with the model you choose.
Outdoor Mobility
If you intend to use your electric wheelchair out and about, you need to make sure that it is suitable for the terrains that you intend to use it on. Some electric wheelchairs are great across many surfaces, but some are not suitable for grass, gravel, or bumpy terrains. In addition, if you intend to take your electric wheelchair traveling with you you'll want one that is light, compact, and easy to fold and unfold. Thankfully, all of our five top picks are foldable and other than our budget pick, they are all relatively light and mobile.
Cushioning and Comfort
Given the amount of time you will end up sitting in your electric wheelchair, it's important that you find one that is comfortable for you. The great thing about most of the brands that produce electric wheelchairs is that they offer different options in terms of cushioning and backrest materials, and whether you choose a captain's, solid pan, or rehab style seat. When researching chairs you will want to look into the material that the cushioning is using. Some people find contoured foam more comfortable whereas others are likely to prefer air foam. Of course, this is going to depend somewhat on your personal preferences.
Battery Power and Life
This depends on how much you intend to use your electric wheelchair, but battery power is something you definitely want to consider. Some electric wheelchairs with large batteries can literally last for weeks on a single charge, especially ones like the Sentire Med Forza D09 that come with dual batteries. However, you need to balance this consideration against the weight batteries add to wheelchairs. Even with the lightest wheelchair, the batteries to add a fair few pounds.
Motor Power
Most electric wheelchairs can keep up with a slow jogging pace but that's usually only on easy, flat terrain. On rough terrain, motor power becomes a lot more important. You'll want to look for an electric wheelchair with the power to at least get over the bumps you deal with on a daily basis, but beyond that motor power is really up to you. That said, a stronger motor will usually drain the wheelchair's battery faster, whilst a weak motor with a smooth ride will probably last you longer at the expense of having trouble getting up ramps and across rough surfaces.
Maximum Load (Weight Capacity)
Most electric wheelchairs are built to support relatively heavy weights. Usually you can expect them to support at least 240 lbs, but once you are over 240 lbs things can get a little more complicated. Always check the maximum load that the electric wheelchair you are looking at can take. If you're having trouble finding one suitable, why not check out the Sentire Med Forza D09 Deluxe linked above.
Modifications
Not everyone has the same needs or requirements when it comes to choosing an electric wheelchair, and that's understandable. Thankfully, most wheelchairs have the option to add a number of different accessories and in many cases you can even add them yourself. However, it's worth checking this out before making a purchase and potentially contacting the manufacturer to make sure that the electric wheelchair you choose will meet your requirements.
Style
We know this is less important than the others mentioned here, but if you want a machine to drive around on a day-to-day basis you probably want it to look good. This, again, is mostly down to personal preference – but don't buy something that you're going to hate looking at for the next five years!
Frequently Asked Questions
Does insurance cover electric wheelchairs?
Generally speaking, health insurance companies will pay for electric wheelchairs when medically necessary. It depends on what your policy is and it also depends who your insurance provider is. In addition, many health insurance companies have specifications on the electric wheelchairs that they are willing to fund. The best way to find out this information is to contact your insurance company and ask.
In relation to Medicare, please see this informative article.
How far can an electric wheelchair go?
You can generally expect an electric wheelchair battery on full charge to last at least eight hours providing a range of at least 12 miles. However, this depends on a wide range of factors including the electric wheelchair model, the number of batteries you have, the size and health of the batteries, and your weight.
How much do motorized wheelchairs cost?
The average electric wheelchair that you can purchase unmodified costs around $2000-$3000. However, there are some lower range electric wheelchairs available for about $1000, and for a wheelchair with very specific features, quality, and requirements, you can be looking at prices up to $12,000.
Why are electric wheelchairs so expensive?
A lot of research goes into producing electric wheelchairs. In fact, this applies to wheelchairs in general; these machines need to be researched, designed and produced to the highest quality to help facilitate the lives of the people that need to use them. Once you add up the costs of development, the frame, the batteries, and the controls, it's easy to see why they can be so expensive.
What size electric wheelchair should I buy?
That depends entirely on your own needs, but the important things to consider are the width of the seat and your weight. Most electric wheelchairs have a seat width of 16-20 inches, but there models that go wider if necessary.
Best Electric Wheelchairs (Our Top Picks)
Our Top Pick: EZ Lite Cruiser Deluxe DX12 Electric Wheelchair
From our in-depth research, the EZ Lite Cruiser Deluxe D12 stood out as the clear overall winner. It provides amazing quality and features for its mid-range price. With its tight mobility, great battery life, light weight, and foldable frame, the EZ Lite Cruiser DX 12 is a reliable electric wheelchair for increased mobility, freedom, and independence both indoors and outdoors.
Weighing only 58 pounds (or 64 pounds with battery), this wheelchair is really something special.
The large rubber wheels provide stability over many types of terrain, and the well-built suspension makes for a smooth and comfortable ride. Grassy fields, sidewalks, airports, grocery stores, and public transport are all a breeze.
Despite being so light, the EZ Lite Cruiser DX12 is rated for up to 305 pounds. So even if you're on the heavier side, this is still a great nimble scooter for getting around with.
The wheelchair is easy to fold and unfold, and assemble and reassemble. Disconnecting the battery is a piece of cake, and it even has a freewheeling mode that only requires an simple lever flip to engage. Its modular design also allows for the addition of a wide range of accessories.
Whilst the EZ Lite Cruiser DX12 is not the widest, lightest, or cheapest item we reviewed, with a rating of 4.4 across many reviews on Amazon, this electric wheelchair is an exceptional, well-built, reliable, machine.
And as far as customer service goes? The EZ Lite team are incredibly professional, helpful, and based in the USA.
EZ Lite Cruiser DX12 Key Features:
Light Weight: Only 58lbs (without battery)!
Quick and easy folding and unfolding
Suitable for a wide range of terrains
Great customer service based in the USA
Supports users up to 305 pounds
Our Runner-Up Pick: Porto Mobility Ranger D09 Electric Wheelchair
Editor's Pick!
The Porto Mobility Ranger D09 is another amazing electric wheelchair choice. Just as easily foldable as the EZ Lite Cruiser DX12, and also made by a reliable US company with 24/7 customer support.
This electric wheelchair is very comfortable, handles all surfaces with ease and can make great stable sharp turns. The dual batteries last a long time and even when they're running low the wheelchair still chugs along just fine. Even when going up accessibility ramps!
The only reasons the Porto Mobility Ranger D09 was not our top pick is that the cushion, whilst comfortable, affects the wheelchair's compactness when folded and the joystick controls can take some getting used to.
However, with 37 reviews on Amazon earning it a full 5 star rating, it's easy to see how this portable power wheelchair is such a great choice.
Porto Mobility Ranger D09 Key Features:
Light Weight: 50lbs (without battery)!
Weight capacity of 396lbs (but note 18.5″ seat width)
Turning radius of 33″
Great customer service based in the USA
Easy to fold and unfold
5 Stars over 37 reviews!
Best Electric Wheelchair For Travel: Forcemech Voyager R2
The Forcemech Voyager R2 is built for travel. It's ultra-portable, very mobile, and weighs only 43 pounds without battery. Perhaps the lightest electric wheelchair on the market, this really is one of the best options for airplane, cruise ship, or any type of travel.
However, getting the machine down to the size didn't come without some sacrifices, and so the Forcemech Voyager R2 may not be the best electric wheelchair to use as your daily driver.
Quality-of-life issues such as the footrest not being detachable and a flimsy battery charging plug can get annoying. However, this electric wheelchair folds incredibly easily making it quick and seamless to move from place to place, the battery lasts for a very long time, and the arms rotate out making the chair easy to get in and out of.
But please bear in mind that one of the reasons the battery lasts so long is because this chair doesn't put out a huge amount of power. If you're hoping to cross grassy terrain, you probably won't have much luck. However if you're using it in an airport, or on public transport, this is definitely our top recommendation.
With an average of 4.4 stars across 46 Amazon reviews we understand why this electric wheelchair is "Amazon's choice". Although, we've got to say, we're not a huge fan of the yellow!
Forcemech Voyager R2 Key Features:
Lightest electric wheelchair on the market? Only 43lbs without battery!
FDA Certified for airplane travel
24/7 US based customer support
17″ seat width and depth
32″ turning radius
Great on flat surfaces
Best Heavy Duty Electric Wheelchair: Sentire Med Forza D09 Deluxe
Editor's Pick!
The Sentire Med Forza D09 Deluxe was not our top pick, however, this heavy duty electric wheelchair really is an amazing machine. The build quality on this wheelchair is almost unbelievably good, and that's probably part of the reason why it can safely support users up to 180 kg or 396 pounds!
If you're a person on the heavier side, you know that finding a great electric wheelchair can be a bit more difficult for you than for the average person, well truly look no further. The Sentire Med Forza D09 Deluxe is the one.
The suspension makes driving outside very comfortable, across many different terrains and inclines. Even indoors, this electric wheelchair is really nimble and mobile – even small doors are easy to get through.
Just like others on this list, this wheelchair is foldable, compact, and relatively light – but it's biggest benefits truly are its build quality, its ability to handle heavy weights, and it's two powerful motors and long-lasting batteries that make handling those heavy weights trivial.
That's not to say the Sentire Med Forza D09 Deluxe doesn't have its drawbacks: Sometimes the controls can feel a bit jumpy, and because the tires are solid they can leave marks on indoor surfaces. However, we wouldn't let these things hold you back.
The Sentire Med Forza D09 is a really great, sturdy, reliable machine, and We'd imagine that's why it has an average of 4.7 stars across 136 customer reviews on Amazon.
Sentire Med Forza D09 Deluxe Key Features:
Incredible build quality – sturdy, reliable, premium
Supports users up to 396 lbs!
Foldable – will fit in the boot of a car
Has under-seat storage built-in
Weights 58.5 lbs including battery
Smart suspension makes for a smooth journey across rough terrains
Best Budget Electric Wheelchair: Drive Medical Cirrus Plus
The Drive Medical Cirrus Plus is another great folding power wheelchair, especially if you are on a tighter budget. Coming in at only around $1500 for the 18 inch model, this simple, lightweight chair is a great pick if you don't want to drop $2000+.
This electric wheelchair is comfortable, powerful, and it handles very well up hills and off-road. It is significantly heavier than most of the wheelchairs on our list, but that comes with the benefits of being really strong and sturdy.
One interesting feature that comes built into this power wheelchair is the seat-belt, perhaps put there because its top speed is 5.5 mph (greater than the average electric wheelchair speed of 4 mph).
With a comfortable seat cushion, swing away footrests, and an adjustable length joystick, this is a great choice for a full-featured, lightweight, electric wheelchair that won't break the bank. It is by no means our favorite electric wheelchair on the list but it does get the job done.
Drive Medical Cirrus Plus Key Features:
Different seat widths to choose from
Foldable design (but not light-weight, coming in at 90 lbs without battery)
Surpasses the ANSI RESNA testing requirements
Supports weight of up to 300 lbs
Great price for extensive features
Very comfortable!
Other Electric Wheelchairs We Reviewed
We looked at 5 other electric wheelchairs. Even though they didn't make our 5 best electric wheelchairs list these are still the best of the rest that we looked at and can be good choices in the right circumstances.
Built by another great American company with 24/7 customer support, the Comfy Go Electric Wheelchair 2019 is another great budget choice. Costing only around $1100, this electric wheelchair has a lot of great features at its modest price.
Unfortunately in cold weather the tires compress and don't run so great, and this electric wheelchair does not have a freewheeling feature so when your batteries die you will run into some trouble. That said, at the price point, this is a great electric wheelchair for those on a tight budget.
Made by INNUOVO, this 2019 model electric wheelchair looks great and has dependable mobility and safety features. This chair has a maximum weight capacity of 260 pounds and seat dimensions of 16.5″ x 16.5″ – so if you're on the larger side it's probably worth looking elsewhere.
However, as a travel wheelchair, this is a great choice. It's lightweight, easy to store in the car, and FDA approved to carry on an airplane.
Considering the light weight this electric wheelchair is really stable, it drives well, and has good back support. Unfortunately, the tires on this wheelchair have a little bit of trouble on carpet – so that's something to consider, especially if you intend to use this electric wheelchair primarily indoors.
An amazing heavy duty electric wheelchair is the Forcemech Navigator XL. A pricey option, but great if it fits your needs. This electric wheelchair is portable, it folds easily, and while it's a little heavy it should be manageable.
On major thing to consider with this wheelchair is that it's not front-wheel-drive, so it doesn't work so well on surfaces like gravel. However, on sidewalks and neutral city terrain this is a sturdy, comfortable electric wheelchair.
And again, Forcemech is a great American company to deal with; their customer service is excellent.
We'll be honest, the Golden Technologies Scooter Powered-Wheelchair GP162 is ugly, but it gets the job done. It's a small, comfortable, nimble machine great for older homes with narrow doorways. The joystick takes a bit of getting used to but once you get the knack of it you'll get some great freedom from this electric wheelchair.
It has a range of up to 15 miles and and average speed of 4 mph, and whilst it's a little on the heavy side, it's still easy to load in and out of a car. On top of all that the price is great and again the customer service with Golden Technologies is impeccable.
One of the best things the Pride Mobility Jazzy 600 ES has going for it is it actually has six wheels: The standard four wheels and additional 2 stabilizers on the back. It is a really sturdy electric wheelchair, although you would expect so considering it weighs 240 pounds!
Because of its weight, power and suspension the Jazzy 600 ES is great both indoors and outdoors. The armrests are adjustable so you can make it easily through narrow doorways. To top it off, this electric wheelchair is incredibly quiet. That said, at this price point, there are definitely better options to consider.
More Wheelchair Related Articles: