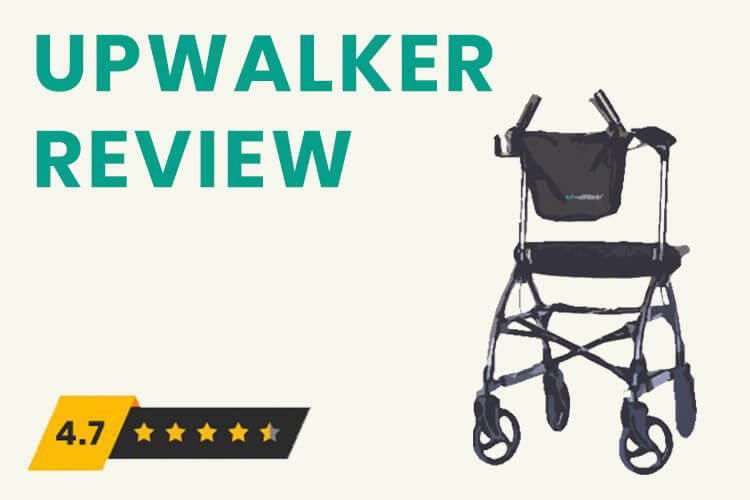 Comprehensive UPWalker Reviews (& Best Price LINK)
We believe that investing in a good walker can help one maintain an active lifestyle, both indoors and outdoors. This is essential for not only the physical well-being of older adults but their mental health as well.
No one wants to be cooped up in their home all the time. The market for walkers, however, is crowded. How can you tell which one is the right fit for you?
One entry to the market is the UPWalker – a product that is currently heavily advertised on TV, undergoing an "As-Seen-On-TV" campaign. The manufacturer, LifeWalker, markets the UPWalker as a mobility aid that goes the extra mile ahead of the conventional walker. They claim their upright walker is a product that will help you walk with better posture, resulting in more comfort and efficiency. They also state that it has more safety and security than most devices, owing to its adaptable, elevated design.
But does the UP Walker live up to its hype? In our detailed, technical, UpWalker review, created through hours of testing and user reviews analysis, we will discuss the ins and outs of this device, including the basics, and from its specifications to its extra features.
UPWalker Review (September 2019)
Useful UPWalker Features
Incorporated Seat
The seat is made with sturdy fabric that can be moved to suit the situation. For example, the seat can moved to the front for sitting, or to the back for walking. This will allow you to walk or sit for considerable periods of time in comfort with sufficient support (the seat also has a backrest.)

Attached Carry Bag
The UPWalker comes with a carry bag that can be attached to its frame, useful for storing personal items and everyday necessities. You can also use this to keep your hands free while moving around, so you don't have to sacrifice your balance while bringing something along. The bag has several variations that include an extra-large bag for shopping, and a "luxury" item bag that's much sturdier than the default bag with a sleeker design.

Sturdy Construction
The device is made from reinforced aluminum with a few composites of plastics and polyurethane. The design of this walker mirrors the construction principles used by the aircraft industry to create a device that is both sturdy and lightweight.

Customizable
You can make adjustments and tweak the walker's different components to suit your needs. From the armrest height to the pivoting grips for your hands, the walker can be customized for an extensive range of body types. This walker takes into account both safety and comfort, including features like adjustable arm length.
Every customization you do can be "locked," so you don't have to tweak your walker every single time you use it.

Medically Tested
According to LifeStyle, the walker has been tested in a research study done in a controlled environment, with thirty walker users trying out the LifeWalker Upright device (a previous model that's functionally similar to the UPWalker).

The device's performance was evaluated and compared to the conventional walker or the participant's personal walker.

The results showed that:
The UPWalker users were able to walk in an upright manner, improving their posture.
The customizable forearm support was able to carry a portion of the bodyweight that's carried by the lower extremity joints and the wrists.
Many UPWalker users were reported to feel more at ease when using the device, owing to its security and comfort.
The oxygen consumption of the UPWalker users was tested while doing a walking test. Overall, the users consumed much less oxygen, relating to less physical exertion on their part
Their study (which you can read here) was published in the 100th volume of the Archives of Physical Medicine and Rehabilitation.
Product Specifications
| UPWalker Component | Measurements |
| --- | --- |
| Length | 29" (74 cm) |
| Width | 24.3" (62 cm) |
| Unit Weight | 15.5 lb (7 kg) |
| User Weight Capacity | 300 lb (136kg) |
| User Height Range | 4ft 7"-5ft 10" (140-178 cm) |
| Wheel Size | 2 x 8" Front; 2 x 6" Rear |
| Seat Width | 18" (43 cm) |
| Sit-to-Stand Handle Height | 26.75" (68 cm) |
| Seat Height From Ground | 21.5" (54.5 cm) |
| Armrest Height Range | 33"-45.5" (84-113 cm) |
| Folded Height | 40" (101.5 cm) |
| Folded Width | 8.5" (21.5cm) |
| Folded Length | 29" (74 cm) |
Safety Components
Efficient Brakes
The upright walker's wheels come with good breaks that can be locked to immobilize the whole device if you want to take a rest and sit down. These breaks were ergonomically designed for better control and easy use.

Improved Stability
The device dramatically lessens the chance of fall-related accidents through its design choices. For instance, it comes with padded handlebars that can ease the sit to stand transition to keep the user safe.

Even Body Weight Distribution
Because of the even bodyweight distribution, instead of your upper weight solely being supported by the wrists, you risk fewer chances of wrist damage and an increased sense of comfort. This is especially important for people who have arthritis. Instead of adding pressure to the wrists, the armrests take the weight instead.

Mobility And Transportation Capacity
The device uses 8-inch wheels made from rubber that can smoothly maneuver over different surfaces. However, some users have reported that while they had no issue walking over smooth, hard surfaces, it took some practice to use on hilly terrain. We confirmed this in our own testing. One user also reported that the device might not be suited for "soily" surfaces like an outdoor garden. Again, from our testing, we agree that the UPWalker does not perform well on soil.

With regards to its transportation capacity, overall, the walker, when folded has a very compact shape, which is useful for bringing it along with you in your vehicle. There have been a few users who complained about the walker being too big to fit in their car. We recommend that you measure the dimensions of your trunk and compare it with the product's specifications to ensure that it will fit in your vehicle.
Indoor and Outdoor Performance
Indoor Performance
While this upright walker is suited to a large variety of surfaces, it might be too bulky for indoor use. If you have a home that's on the smaller size, or something like an apartment, check the walker's measurements before you decide to purchase it.
Outdoors
Many buyers of this product note its suitability for outdoor use. Compared to conventional walkers, you can cover longer distances and remain comfortable while using the UPWalker. Whenever you feel tired, you can sit down on the walker's comfortable, built-in seat. Rougher terrain can take some practice to maneuver around on. For instance, cracks in the pavement or gravelly pathways can impede your speed (although we know this rings true with every walker).
User Reports
Overall, many users we contacted over Facebook reported that they feel more stable and at ease using the UPWalker compared to the conventional walker or rollator. Many also praised the added forearm support that significantly takes the weight off the user's joints and wrists. 
A whole range of ages, as old as 93 years old, can use the UpWalker with comfort. Many users said that walking, with their device's support, has now become a part of their regular routine. People with back problems were able to walk with less pain owing to the device's upright walking design.
People also told us that the walker is much easier to push than a conventional wheelchair because of its lighter design. This is perfect if the user is tired and wants to sit, and a loved one can move the walker for them.
However, one of those we spoke to expressed their disappointment about the walker's bulky design. They felt it was unsuitable for regular indoor use because it couldn't be easily maneuvered in tighter spaces. In addition, some users mentioned that this upright walker was too heavy for the user to maneuver on their own, or too bulky to fit in their car.
Pricing And Product Returns
The UPWalker is priced at $645.00 with free shipping and handling. Every order has a 30-day satisfaction guarantee with initial shipping and handling fees if you paid for them. If you find the product lacking, within a month, you can return it and get your money back. 
Is The UPWalker The Right Walker For You?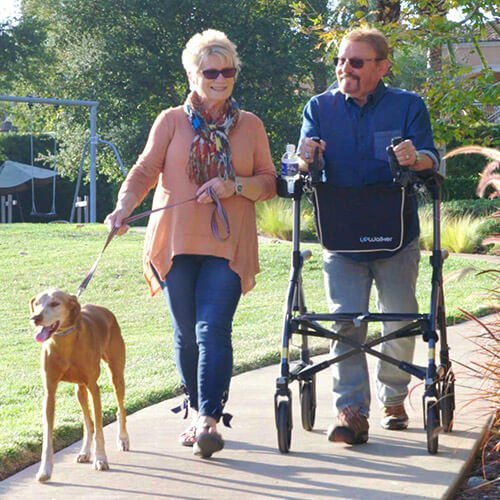 The UPWalker, in general, is a much better mobility device than the walkers you commonly see on the market. Its sturdy construction and well-thought-out design have the potential to improve their user's health and give them a higher degree of independence.
This walker won't be for everyone, but it can fulfill a variety of needs. For example, individuals with chronic back pain or arthritis will significantly benefit from this product's features. The walker can take away the pressure from your more vulnerable areas and balance out the distribution of weight. This can boost your capability to move, as well as to reduce any pain.
People with balance issues like stroke patients can also take advantage of this product. The UPWalker provides sturdy and robust support, allowing users to remain balanced and stable for more extended periods. However, if you have any of these issues, we recommend that you consult with your physician before you integrate this device into your everyday life.
Some people might be more comfortable with the "hunched-over" position instead of a straight posture, and this walker doesn't allow that. You might also not be covered in the walker's height and weight limit. According to the manufacturer's site, this model is suitable for individuals within the height range of 4'4″ to 6'4″, and under 350 lbs in weight.
While this model might not be for everyone, its features and customization capabilities mean that it can tend to a broader audience.
How Is The UPWalker Different From its Competitors?
This device is specially designed to fix the problems that are associated with conventional walkers. A good thing about this model is that it lessens the risks of falling accidents. It also aims to correct the posture, circumventing the long-term ill-effects of a standard walker.
Because of the extra stability it provides, its users can be more confident and at ease when walking. Most walkers have a design where a large portion of your body weight is supported by the wrists, which can increase the risk of injury if used for prolonged periods.
Because the UPWalker promotes proper posture, people with back problems will feel less pain when walking. Many injured or senior individuals can finally live a more active lifestyle and improve their health, mobility, and independence.
Conclusion
All in all, the UPWalker manages to address the inherent deficiencies that come with conventional walkers, and this includes the tendency to slouch, fall risk, and reduced comfort and stability.
Unlike other walkers that force one to take a hunched over position, placing the majority of your weight on your wrists, the UPWalker offers support and promotes better posture. This will make you feel more at ease with less pain in both the long and short term.
Many users have shared how the UPWalker now enables them a degree of independence and has turned their sedentary lifestyle into a healthy and active one. The support that this upright walker provides is suitable for prolonged outdoor use and provides a more comfortable experience.
The walker can help a variety of individuals with different disabilities and ailments. Several people have reviewed this product and shared their story of how the UPWalker helped them get back on track to their regular schedules.
If you do decide to try out the UPWalker, remember that if you are in any way unsatisfied with the performance of this device, you can simply return it within 30 days and get your money back, provided that it's in good condition.
With all its fantastic features and benefits backed by science, the UPWalker manages to live up to the hype. We wholeheartedly recommend anyone looking for an excellent upright walker or mobility aid to check out the UPWalker, because it's one of the best walkers in the market available today.
4.7/5