10 Popular Wheelchair Sports (Perfect for Beginners)
No person should be limited by their circumstances. And the fact that someone is a wheelchair user doesn't mean they cannot enjoy the fun and competitive nature of sports.
Today, almost every sport has been adapted to be played by wheelchair users and persons with different kinds of disabilities. From recreational wheelchair basketball leagues to the highly competitive Paralympics, there is something out there for anyone at any level.
Despite this, 7 out of 10 people living with a disability want to be more active. So, in this article, we present the top accessible sports for wheelchair users. These are all popular adapted sports with a wide range of associations and organizations prepared to assist beginners.
Beyond the fun these sports provide, they have also been proven to help improve the health and self-esteem of those with disabilities. So check out our list, and we hope you can find a wheelchair sport that works for you!
10 Accessible Wheelchair Sports
1. Wheelchair Basketball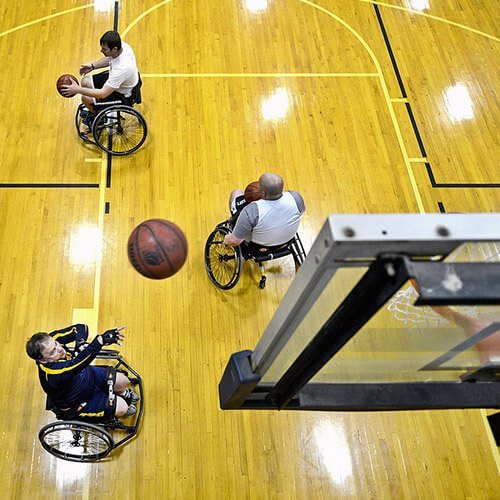 After being founded in 1956, wheelchair basketball has grown to become the most popular accessible sport for wheelchair users.
Wheelchair basketball has leagues and competitions around the world. The sport combines power and precision as the court, and the height of the basket remain the same as in regular basketball.
Players of wheelchair basketball use adapted chairs with two large cambered (angled) wheels for speed, ergonomics, and mobility.
Despite this, the sport is always open to new players. As a team game, it inspires a sense of comradery, one not found in solo sports. It helps that wheelchair basketball has a significant fan following and a major international body (the International Wheelchair Basketball Federation) that manages and promotes the game worldwide.
2. Wheelchair Rugby
Also known as "murderball" (yikes) and quad rugby, wheelchair rugby is another major team sport for those with mobility impairments.
Like wheelchair basketball, rugby has a significant following across the world. It is a featured sport during the Paralympic Games with a range of amazing international teams that play – including New Zealand's All Blacks spinoff: The Wheel Blacks!
Wheelchair rugby first came about in the late 1970s in Winnipeg, Canada, for persons with quadriplegia, but it has developed a lot since then.
Currently, it plays as a heavy contact sport combining aspects of hockey, basketball, and volleyball. Each team has six players and the game is typically played indoors on a hardwood court.
Like wheelchair basketball, wheelchair rugby is a welcoming sport for beginners. So, if you're interested in getting involved, check the sport's core managing body: The International Wheelchair Rugby Federation.
3. Wheelchair Tennis
Wheelchair tennis is a popular sport even outside the disabled community, perhaps because it is just so fun to watch. Seriously, have a look at this nail-biting doubles set from the 2015 Wimbledon final:
The sport is played on a regular tennis court with the same rules that apply to traditional tennis. What's more interesting is that you can play it singles, doubles, or up-down doubles with non-disabled players — making it one of the best games to play with your friends and family members.
As with other sports, players of wheelchair tennis use adapted wheelchairs with cambered wheels for ease of movement.
4. Wheelchair Softball
Softball is a sport adapted from baseball, and wheelchair softball is a sport adapted from softball. In wheelchair softball, all players must use adaptive manual wheelchairs, and each team must include people with quadriplegia.
According to the National Wheelchair Softball Association (NWSA) the game was developed in 1976, and there are currently 30 professional teams in the USA.
If you aren't interested in the contact nature of rugby and basketball, wheelchair softball could be an excellent choice for you!
It follows the traditional rules of softball with a variety of exceptions to accommodate players with varying disabilities.
5. Wheelchair Hockey
Wheelchair hockey is another popular sport for wheelchair users – open to people with varying kinds of disabilities. It's a contact sport that encourages teamwork and social interaction.
There are two categories of wheelchair hockey; one uses manual wheelchairs and the other electric wheelchairs (also known as power hockey).
There are a few adaptive rules that guide wheelchair hockey. The sport is typically played on a basketball court and uses a ball rather than a puck.
Like wheelchair basketball and rugby, hockey is a well-established wheelchair sport with many players and leagues. If you are thinking about involving yourself in a competitive team game, it's definitely worth checking out!
6. Wheelchair DanceSport
Wheelchair DanceSport is a social and competitive sport for those who'd like to exercise and enjoy an activity that is fun, active, and beautiful to be a part of!
Wheelchair dancing first originated in the late 1960s, primarily for recreation, but has since grown into an international sport with competitions across the world. It is currently governed by the International Paralympic Wheelchair Dance Sport Committee.
Wheelchair DanceSport comes with quite a few rules, but if you just want to get involved socially, these shouldn't matter so much!
Dances can be solo, duo, or group performances, but at least one dancer must be in a wheelchair. There are a lot of dance styles involved, including the classic tango, waltz, and many more.
7. Wheelchair Fencing
Unlike some of the more casual sports featured above, wheelchair fencing is a unique adaptation of fencing that is very competitive.
The rules and regulations of wheelchair fencing are set by the International Wheelchair and Amputee Sports Federation. It is a Paralympic sport that calls for precision, technique, and style to excel.
Some rules are adapted to make the sport convenient for wheelchair users. For example, participants require specialized body armor to protect from strikes and sports wheelchairs (anchored to the ground).
If you have quick reflexes, perseverance, the desire to get involved in a serious sport – wheelchair fencing is worth looking into further!
8. Wheelchair Racing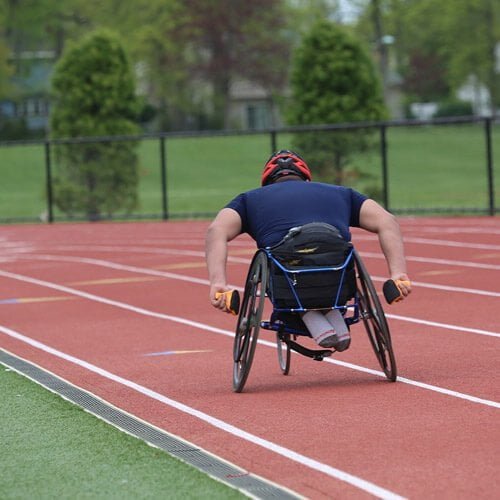 Wheelchair racing is for individuals who would like to compete in tracks and road races. It is a Paralympic sport open to people with many different kinds of disabilities, as long as they participate in a wheelchair.
Racing is quite an intensive sport for wheelchair users, requiring a good amount of upper-body strength and stamina. That said, there are different kinds of races, including 800 meters, 1500 meters, and long-distance sprints – so there might be an option that works for you.
In wheelchair racing, electric wheelchairs are understandably not allowed – this is a sport that pushes players to their limits!
9. Wheelchair Sailing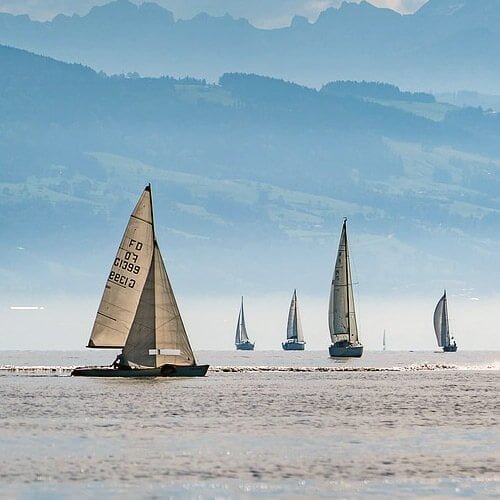 Wheelchair sailing is no different from regular sailing. If you're a fan of waves and the ocean, then you'll love it! While not as popular as other sports mentioned above, it still famous internationally as a recreational sport.
If you know someone with a sailboat or live near the sea, reach out and see if you can be a part of their adventures!
10. Wheelchair Soccer
Soccer (also known as football) is one of the most popular sports in the world, and wheelchair soccer (and its close friend adapted soccer) has a substantial following too!
Like wheelchair rugby, wheelchair soccer is usually played on basketball courts. The soccer ball is oversized, and each team has 5 players.
While this sport is not entirely "non-contact", there is less contact involved than in rugby and hockey while the game still maintains the team spirit of these sports. It's an excellent choice for those looking for social interaction, teamwork, and fun!
Conclusion
For wheelchair users, there are many sports and activities are incredibly accessible. Whether you're looking for health, wellness, social contact, or competition – there is a sport out there for you!
Whether it's tennis or dancing, any wheelchair sport will improve your health, confidence, and self-esteem. The sense of accomplishment anyone can feel after completing a run or winning a game of basketball, is something exceptional.
However, whether you're looking to get involved with a wheelchair friendly sort competitively or recreationally, it's a good idea to consult with your physician or physical therapist first. Different sports will suit some people better than others.
In any case, a disability should never hold you back. There are so many sports out there that have been adapted to work just for you, while maintaining the essence of the game! So get out there and enjoy wheelchair sports without limitations!
Articles You May be Interested In: