A Comprehensive Guide for Buying Patient Lifts
A patient lift is simply a device that helps caregivers at nursing homes, private homes, and hospitals move patients or residents with limited mobility between chairs and beds or from a sitting to a standing position. Patient lifts are essential as they help avoid injuries to both the patients and caregivers by providing smooth and comfortable transitions.
If you are on the look for a patient lift for your home or facility, then you are in luck as this comprehensive guide will help you pick the right one for your needs or for individuals that entrust you with their care.
Important Questions to Ask Before Purchasing a Patient Lift
Before you get into the market for these devices, several important pieces of information are considered. When you answer these questions, you will be far better positioned to decide on the right lift. These questions include:
Manual or Electric Patient Lift?
A manual lift depends on the power provided by the operator, usually via a hydraulic pump. The electric type, on the other hand, uses a motor powered by a rechargeable battery. Manual patient lifts are, of course, less expensive as they require fewer parts and do not have any batteries, motors, hand controls, or any electronic. However, even though hydraulic pumps are relatively easy to control, they call for a little more effort compared to their counterparts.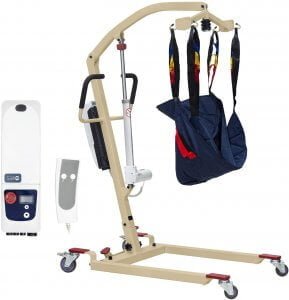 Hospitals and facilities in the same niche tend to opt for electrical patient lifts, while the manual type is more suitable for home settings. However, that is not to say that the electric kind may not be ideal in a homecare situation where there's only one single caretaker. With an electric patient lift, you can use one hand to operate it while the other keeps the patient steady.
How High Do You Need to Lift the Patient?
This is a question that's less important than it used to be as hospital beds nowadays are more adjustable than ever, lifting patients from as low as the ground. However, if you are in a home setting where an adjustable bed is less likely, confirming that the device meets your height requirements is undoubtedly vital.
What is The Size?
Lifts come in a wide array of sizes and styles, and some models may be too big to fit in your house/facility or the bathroom or bedroom. As such, it is essential to take precise measurements of the places you intend to use it and the travel areas in between these areas. Match the measures to a patient lift that can easily accommodate your space.
How Much Weight Can the Lift Support?
Every lift, be it electric or manual, has a maximum weight capacity. Ensure you pick one that can support as much weight as needed. If your patient has lost weight due to their condition, ensure you pick a lift that can support their previous weight. That's because they may regain the weight as they regain health.
How Much Portability do You Need?
If you need to move the lift frequently, there is an option for portable patient lifts that fold for either transport or storage. However, bear in mind that even portable patient lifts can be challenging to lift for one person as most of them weigh almost 80 pounds. You can disassemble them into smaller pieces for efficiency, but most of these devices are designed to be moved in a single folded piece.
What About the Patient's Stability?
The types of spear bars or cradles utilized in lifts will certainly impact a patient's stability. They also determine the capability of moving the individual in varying positions. They often come into 2, 4, and 6 configurations, and the size limitation must accommodate your patient's weight.
Also, it is imperative to make sure that the sling and cradle are compatible. Picking the best patient lift sling is just as important as selecting the lift. Thanks to the comprehensive selection of slings, you will be able to find one that matches your needs. Examples include:
1.Full-body Sling
Also known as a hammock, a full-body sling supports your whole body with the arms inside the sling straps. This type of sling is ideal for partially or completely dependent patients, are too heavy, or cannot bear any weight.
2.U-Sling
As the name suggests, a U-sling is shaped like a U. This type is a secure, general-purpose sling that can be used for an array of purposes and types of patients. U-slings come with wide straps that loop around the legs and thighs for support. One of the best things about the U-sling is that you can put them on or off the patient while seated.
3.Toileted Sling
These are similar to the whole body type, only that they have a hole in the bottom that allows the patient to have easy access to a toilet. You can refer to these as special-use slings.
Some lifts ideally have a swivel function, allowing more effortless patient movement and positioning. This is an incredibly vital feature for people who cannot turn while standing or move while sitting.
Emergency Control?
When picking an electric patient lift, it is vital to ensure that it comes with emergency control or manual override. This allows you to safely lift and move the patient even when there is no power. This is ideally vital for both floor lifts and ceiling mounted ones.
Types of Specialty Patient Lifts
Other than the general categorization of manual and electric, patient lifts can also be more specialized, depending on your requirements. That being said, here are the most common specialty patient lifts:
Sit to Stand Lifts
These are designed to get an individual on their feet from a sitting position. They are only used for people who can support most of their weight while standing and control their upper bodies and the head.
Heavy Duty Lifts
These devices are capable of lifting to 1000 pounds. They feature adjustable legs that can be put in a wide position for better stability but close enough to move through doorways and hallways.
Bath Lifts
These are often designed from germ-resistant plastic and rust-free aluminum to be used inside a bathtub and raise the individual in and out of water. Some of these lifts come with a reclining feature for additional comfort.
No products found.
Pool Lifts
Unlike their counterpart, these lifts are made to lower or raise people in and out of water. They are often used in hot tubs or pools. Some can be deck mounted, while others are portable, which is always a plus.
No products found.
Things to Learn When Buying Patient Lifts
When buying patient lifts, whether in a store or online, you are bound to come across confusing terms. To help you make the right decision, here are some standard terms and why they are important:
1.The Base
Most lifts' base can be closed or opened by using a spreader bar, except those that feature a powered base. Closing and opening the base enables the device to go around a wheelchair and through the doorway. Some lifts can go wider or narrower than their counterparts, so it is crucial to ensure that the base can be adjusted to match your requirements.
2.Caster
Casters are simply the wheels on which the lift rolls. The common options are single and dual casters, with the latter being ideal for carpeted surfaces.
3.Boom
This is the curved piece at the top of the device. This is the part that does most of the heavy lifting.
4.Mast
This vertical bar fits into the patient's lift base and attaches to the boom up top.
Do Your Homework
Due to the many people and situations that call for patient lifts, this industry has become highly regulated. In most regions, any company selling patient lifts need to comply with very strict quality control standards. All of these products need to undergo testing for durability and strength in accordance with government standards, and the results must be kept on file. Also, each lift has a distinct serial number.
The Takeaway
Patient lifts are assistive devices made to help position, lift, and move individuals who cannot mobilize safely. They give caregivers the support they need to help their loved ones and friends move from one place to another while minimizing the risk of injury for both parties.
Since this equipment comes in a wide array of styles, it is imperative to determine your abilities, the patient's needs, and the house's layout to find a lift that will suit each and every situation.
If this is your first time buying a patient lift, it is advisable to consult a professional healthcare team to ensure you make the right decision. A patient lift is a substantial investment, and you want to make sure you get value for your money.
Articles You May be Interested In: