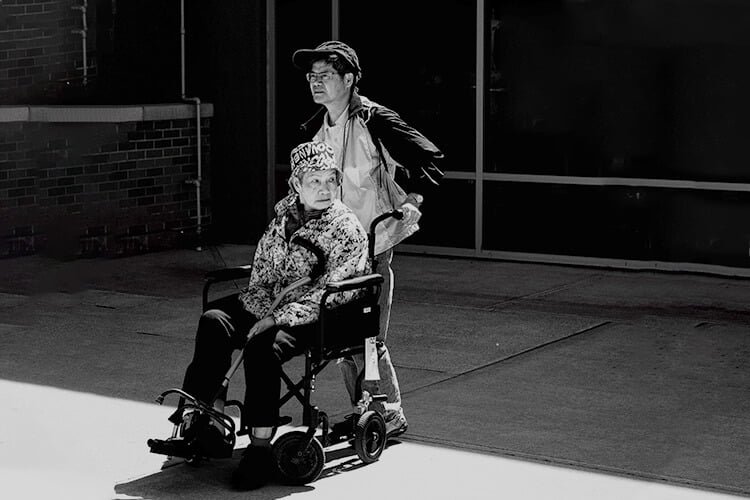 What Is The Difference Between a Transport Chair and a Wheelchair?
Individuals with impaired mobility often require the use of a mobility aid to perform daily functions. These aids come in a wide variety of shapes and sizes but two of the most common are wheelchairs and transport chairs. Although they look very similar, they are distinct types of mobility aid and should be considered as such.
The fundamental difference between a transport chair and a wheelchair is that wheelchairs are built with large wheels for users to propel themselves, whereas transport chairs have smaller wheels and are built for people who cannot use manual wheelchairs to be pushed from behind by a caregiver.
Beyond that however, there are still a few other differences to consider:
Wheelchair Basics
A wheelchair is a specialized mobility device designed for those who cannot walk or have difficulty walking unaided. They come in an array of sizes, colors and designs but all wheelchairs share a common frame. The front wheels tend to be smaller and are ordinarily attached to a freely revolving mechanism so they can be turned with ease.
The wheels at the back are generally slightly larger and topped and are accompanied by rotating handrails. When these rails are pushed, the chair moves forward. This is how wheelchair users independently propel themselves while using a wheelchair. They do not normally require assistance to move.
The average weight of a wheelchair is around 25-45lbs. The seat is usually around 18″ by 18″, and is made out of a steel frame with a cushioned fabric cover. As a wheelchair can be easily moved with just the arms, it means even those with lower body paralysis can use one to get around.
Transport Chair Basics
Transport wheelchairs, though similar to traditional wheelchairs, have a couple of distinct differences. They are more lightweight and compact and, most importantly, they do not have rotating handrails because they are not designed for independent use.
Instead of being pushed along by the user, transport chairs are pushed along by a second person, a helper. So, this is a two man chair, commonly seen in retirement homes and hospital. It only moves if a fully mobile assistant directs it. The advantage is that transport chairs are simpler and far less bulky than true wheelchairs. They can also access more narrow or steeper environments, including narrow doorways in your home.
The average weight of a steel transport chair is 15-35lbs. The seat is normally slightly smaller than that of a wheelchair, typically being around 16″ x 16″ depending on the shape of the chair's core frame. Both front and back wheels are almost always the same size unlike with a standard wheelchair. They typically have no mechanism for individual use and only a very simple on-off brake.
Major Differences Between Wheelchairs and Transport Chairs
The key distinction is in how each of these chairs is propelled forward.
As previously mentioned, lightweight transport chairs are not designed for independent use. They can only be operated if a second, able bodied person pushes the chair forwards. That said, in some circumstances, a transport chair can be used as a makeshift walker if the primary user is able bodied enough to stand behind and push the chair forward.
Wheelchairs allow for completely independent use even if an individual is paralyzed from the waist down. If their arms are functional, a person can propel themselves without assistance. This is why wheelchairs are the superior choice in most environments, and for most people. The only time a transport chair is a better option is when navigating a narrow or hard to access area, or if the user has upper body weakness.
For example, transport chairs may be a better choice when travelling on things like trains, trams or buses. They can usually be folded, unlike many standard wheelchairs, and made narrower to slip down aisles and over single steps. On the whole, however, a wheelchair is still the superior option for anybody who wants to move around truly independently.
It's also worth noting that wheelchairs come with more customization options than transport chairs – primarily because there is a higher demand for them as a long-term companion.
Final Note: Picking the Right Mobility Chair
Whilst the above should give you a good starting point, it's always a good idea to make direct contact with a new transport chair or wheelchair before buying it. Sit down in it, get a feel for its weight and assess how much force is needed to propel it forward. Is it appropriate for your weight and height? What kind of environments can it not be used in?
Both wheelchairs and transport chairs are effective ways to increase mobility and convenience for disabled people and their caregivers. Knowing the differences between the two and considering the needs of both the user and caregiver should aid in the decision to purchase one or the other, or both.
More Wheelchair Related Articles:
Articles You May be Interested In: