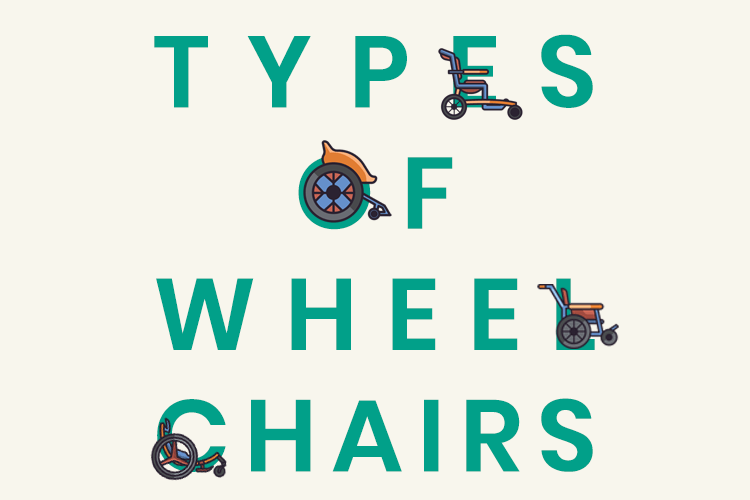 Different Types of Wheelchairs Available (& Finding the Right Kind)
As Wikipedia states: "A wheelchair is a chair with wheels, used when walking is difficult or impossible." A simple explanation that succinctly gets the point across.
But, of course, not many people are asking what a wheelchair is – we all know that. What people are asking is what are the different types of wheelchairs that are available? What kind of wheelchair is right for my circumstances?
Unfortunately, there are no simple answers to these questions: There are tens if not hundreds of types of wheelchairs on the market, and every wheelchair user has their own needs and circumstances.
Despite these limitations – we want our readers to be as informed as possible when it comes to mobility products. That's why we've created the following, comprehensive (and visual!) guide to the different major types of wheelchairs available, alongside examples.
We hope that our guide will help you in finding the best type of wheelchair to meet your own, or your mobility impaired loved one's, needs.
Types of Wheelchairs for…
Types of Wheelchairs for Seniors
For elderly people with limited strength, we tend to favor lightweight electric wheelchairs. With a motor, it is lot easier to move around without using all of your energy.
While electric wheelchairs can be bulky, there are a lot of great lightweight models for seniors available on the market! For example, the EZ Lite Cruiser Deluxe DX12 Electric Wheelchair, which we have previously reviewed.
If you or your elderly loved one still has a lot of strength, the manual type of wheelchair might still be an appropriate option. Again, we think a light-weight, mobile, model is still the best choice for promoting independence.
One good example of a great manual type wheelchair for seniors is the Karman Ergonomic Ultra Lightweight Wheelchair that has received hundreds of positive reviews from elderly people across the world. It might be worth checking out.
Types of Wheelchairs for Sports
There are many types of wheelchairs for sports. Here we list a few, linked to our glossary featured below.
Types of Wheelchairs for Paraplegics
For those paralyzed from the waist down, we would again suggest a standard manual or electric wheelchair, depending on your stamina and mobility.
Types of Wheelchairs for Veterans
Veterans are a very broad group of wheelchair users, with many different reasons for needing one. Therefore, the best type of wheelchair of wheelchair for veterans is a custom built wheelchair to match their individual needs.
The number of veteran wheelchair users is significant enough that a number of non-profit organizations dedicated to providing support to veteran wheelchair users exist.
Given the many reasons why a veteran might require a wheelchair – it is hard to suggest a specific type of wheelchair best suitable for them. It is probably better suggestion to see a doctor.
All Types of Wheelchairs (Alphabetical)
Active Wheelchairs
Active wheelchairs are designed to be versatile and adjustable to a busy and active lifestyle; therefore, they're available in many varieties and types such as ultra-light, folding, rigid, and even sports active wheelchairs.
Active wheelchairs are most commonly manual wheelchairs, yet active electric wheelchairs do exist. Furthermore, the versatile design allows for any further customized modifications as well.
The price range of active wheelchairs varies depending on the type, design, and materials of the wheelchair. Often, manual type wheelchairs are more affordable than motorized active wheelchairs.
A good Active Wheelchair example is the Karman Ergonomic Wheelchair:
Airplane Wheelchairs
Wheelchairs that provide maneuverability in the limited spaces on airplanes are designed for users to allow for air travel as well. Being light weight and foldable, these wheelchairs are useful for wheelchair users who often travel.
All Terrain Wheelchairs
All terrain wheelchairs are the revolutionary next step in wheelchair development. These types of wheelchairs are adaptable to almost any terrain, sandy environments like beaches, off-road paths, and grass. A perfect choice for those with a spirit of adventure! 
These mini "land rovers" come in various sizes, colors, and customizations. There are manual all-terrain wheelchairs, but most of them are electric.
But please be aware, all-terrain wheelchairs cost a small fortune, and their maintenance can add up too. That said, here's an all-terrain wheelchair example perfect for the park:
Editor's Pick!
Basketball Wheelchairs
Basketball wheelchairs are exclusively designed and optimized for wheelchair basketball players. These wheelchairs are among the most premium priced wheelchairs and can cost a small fortune – $1,300 minimum!
There is no single universally standardized measurement for basketball wheelchairs and each one is adjusted, designed and customized separately for each individual.
One of the key reasons behind the high cost of basketball wheelchairs is the material used during their production and assembly. Hard and strong metals like Titanium are used and this costs a fair bit.
Example: Invacare Basketball Wheelchair
Beach Wheelchairs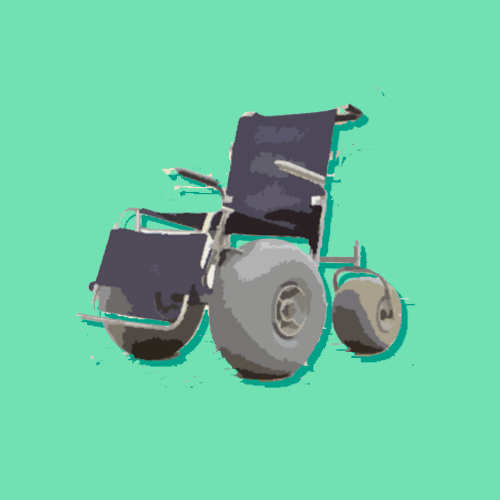 An average wheelchair is difficult to maneuver on sand, because the wheels of the chair are thin in design. This is why Beach wheelchairs are the ideal type for those who use a wheelchair yet love the sea and the beaches.
These wheelchairs are designed with wide tires to function in sandy environments and are available both in manual and electric forms.
However, the cons of this wheelchair include the high cost and the difficulty in transporting due to its excessive weight. Thankfully, there are many beaches in the USA where free beach wheelchairs are offered for hire!
Custom Made Wheelchairs
It is no wonder that not all wheel chairs will be the right fit for every individual, and there is no universally accepted measurement for them either! The sizes and requirements of people from region to region and over time changes.
Custom made wheelchairs or "made to measure wheelchairs" become a solution to this problem. The sizes of these type of wheelchairs are customizable according to the body type, body size, body weight and the special requirements of any individual.
The price of such custom-made wheelchairs will vary according to the material and technology used to made them. (i.e.: metal, rubber and leather used, how many wheels and the degree of automation in the wheelchair.)
If you want a custom wheelchair made, there are many companies out there that offer this service. One of our favorites is Sunrise Medical in California.
Electric, Motorized & Powered Wheelchairs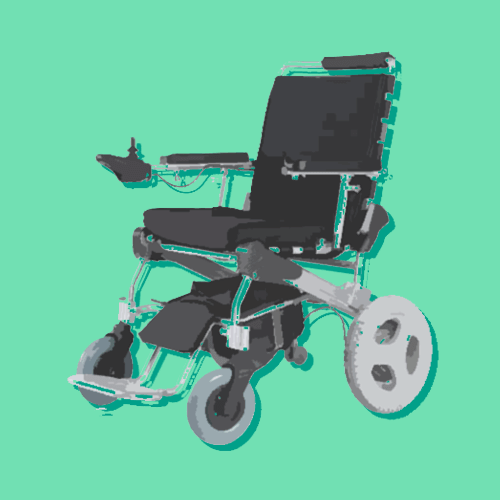 Motorized and electric wheelchairs prove an excellent type of chair for those who lack the necessary upper body strength to maneuver a manual wheelchair.
Electric wheelchairs come with an array of different features and the possibility of modifications according to any special requirements.
However, electric wheelchairs are not suitable for wet environments and can be more expensive to maintain and repair than manual wheelchairs. Electric wheelchairs are among the most expensive types medical equipment – but there are affordable options, such as the EZ Lite Cruiser Deluxe D12.
Other Types of Electric Wheelchairs
Mobility Scooters
Mobility scooters are arguably a type of electric wheelchair. However, they are configured more like a motor-scooter and more suitable for outdoor travel. Mobility scooters are also commonly known as power-operated vehicle/scooter or electric scooters.
Ergonomic Wheelchairs
Ergonomic wheelchairs are particularly engineered to adapt an array of requirements wheelchair users faces in their daily lives and aimto reduce the efforts in operating and maneuvering a wheelchair.
The designs come with ultra-light weight frames with a seat that relieves pressure from the user's body comfortably.
Also, these wheelchairs are made from strong metals such as Titanium and aircraft grade aluminum for maximum durability and light weight.
Example
Folding Wheelchairs
Folding wheelchairs are specifically designed to be stored in small places and are ideal for travel enthusiasts. The lightweight design and foldable feature provide real-time mobility for the user. It is easy to store foldable wheelchairs in the trunk of a car or even a cupboard.
Example: Medline Premium Ultra-Lightweight Wheelchair
Heavy-Duty and Bariatric Wheelchairs
Heavy Duty wheelchairs, also known as Bariatric wheelchairs, are designed to support weight capacities of as high as 700 pounds – solid enough to carry any individual.
Standard wheelchairs are designed only to accommodate weights of up to around 300 pounds, and heavy-duty wheelchairs make it easier for individuals with large body structures and weights to use a wheelchair without any complications.
However, heavy-duty wheelchairs are not made out of light weight metals such as alloy or titanium but generally from the strong classic steel, which makes this type of wheelchair a bit heavier and difficult to transport.
Example
Hemi Height Wheelchair
Hemi height wheelchairs are designed to adjust their height as for the comfort and the requirements of the user.
Built specifically on a dual axle frames to allow these height adjustments, Hemi height wheelchairs are suitable for a person of any height. They are especially ideal for individuals with a height below five (5) feet, which makes them suitable for minors and children as well.
Lightweight and Ultra Lightweight Wheelchairs
These wheelchairs are ideally designed for maximum mobility and portability. The lightweight and ultra-lightweight frames are supported by strong, light materials such as alloys and Titanium during production.
Usually, these wheelchairs come with foldable designs, which makes them easier for individuals with constant travel needs.
What must be noted about these super-light wheelchairs is that due to their particular materials, they can be relatively expensive. Although a great example of an affordable option is the Featherweight 13.5 lbs. Wheelchair from 1800Wheelchair.
Manual Wheelchairs
Manual wheelchairs are the traditional, standard, non-motorized type of wheelchair. They do not use any electricity for their functioning, and this makes them more durable and affordable than their automated electric counterparts.
In addition to this, as the manual wheelchair is less complicated than other types, they are easy to use and easy to maintain and repair. Maintenance costs are significantly lower than with non-manual wheelchairs.
Types of Manual Wheelchairs
Self-Propelled Manual Wheelchairs
Self-propelled manual wheelchairs have large wheels that can be reached by the user to propel themselves forward and move around independently.
A good example is the previously mentioned Karman Ergonomic Ultra Lightweight Wheelchair.
Assisted Manual Wheelchairs
Assisted Manual Wheelchairs, otherwise known as Transport Wheelchairs, though similar to traditional wheelchairs, have a variety of differences. They are more lightweight and compact and, most importantly, they are not designed for independent use. They require the assistance of a carer.
A good example is the Medline Transport Wheelchair:
Narrow Wheelchairs
Narrow wheelchairs are a type of wheelchair specifically designed to be operated in closed space tight environments, which makes them an ideal solution for a person living in a small home or apartment.
The narrowest wheelchairs span from eighteen inches (18) to twenty-two (22) inches and are usually manually propelled.
Moreover, these wheelchairs are light in their design and easy to be transported during traveling.
Example
Pediatric Wheelchairs
There are a wide variety of pediatric wheelchairs available exclusively for children.
As these types of wheelchairs are for kids, they are often quite small and novel in appearance. These wheelchairs come in both manual and electric models with ultra-light designs.
Most pediatric wheelchairs are adjustable, for example the seat height can be raised as a child grows older.
Example
Racing Wheelchairs
Racing wheelchairs are built for speed and to withstand high velocities in shorter distances. On average, a wheelchair racer could go as fast as 30 kilometers per hour!
Racing wheelchairs are available both for track and road racing, and come in the shape of a triangular "Go Kart"-style chair with three wheels, especially suitable for riding on a straight track.
Recliner Wheelchairs
Recliner wheelchairs are not so different from tilt wheelchairs but the Recliner wheelchairs are designed specially to accommodate individuals with hip extension issues and other hip area related injuries rather than spinal injuries.
However, this does not limit or prevent any other individual from using this type of wheelchair.
Reclining wheelchairs often come in both power-driven and self-propelled versions and are made for durability and the comfort of the user. However, they are not as light weight as standard wheelchairs and are difficult to maneuver and store in tight spaces.
Example: Drive Medical Reclining Wheelchair
Rigid Frame Wheelchairs
Rigid frame wheelchairs provide a generally non-foldable, strong and light-weight frame suitable for full time wheelchair users. However, as rigid frames typically cannot be folded, transportation and travel are not this type of wheelchairs' strong suite.
Despite this, the durable and simplistic Rigid Frame design makes them affordable and longer lasting than many other varieties of wheelchairs.
Example: Karma White Frame Ultra Lightweight Wheelchair
Shower Commode Wheelchairs
Perhaps one of the most challenging situations for a mobility-impaired person is during the time in the bathroom. It is as dangerous just as much as it is challenging to operate in a tight-spaced wet environment.
Bathrooms and shower cubicles are among the top places in any house that serious accidents and falls happen.
Shower Commode Wheelchairs make these issues trivial with their easy to use and comfortable builds. The water-proof design with stainless steel makes it easier for the user to operate safely in wet surroundings.
Examples
Editor's Pick!
Single-Arm Wheelchair
Single arm wheelchairs are specially designed wheelchairs that allow users to single handedly propel the chair. This is achieved through a clever mechanism that propels both wheels in the chair when a single wheel is rotated.
Example: Karman Healthcare
Smart Wheelchairs
Perhaps the most technologically advanced and the expensive type of wheelchair there is. The new generation Smart Wheelchairs (PDF) even feature artificial intelligence to minimize user's human effort. In the near future, Smart Wheelchairs that can aid in movement will also be available.
These wheelchairs are fully automated and often have a built-in obstacle detection system to avoid collisions.
Sports Wheelchairs
Types of Sports Wheelchairs
Being mobility impaired or disabled does not mean you have to avoid all the fun and the active lifestyle of sports. Sports wheelchairs are specifically designed for athletes and individuals who have a passion for sports.
Most sports wheelchairs are made using ultra light weight metal, productive ergonomics and next generation technology for moving fast. The wheels are adjustable and can withstand high rates of speed and pressure.
The different types of sports that have specific types of wheelchairs include:
Standing Wheelchair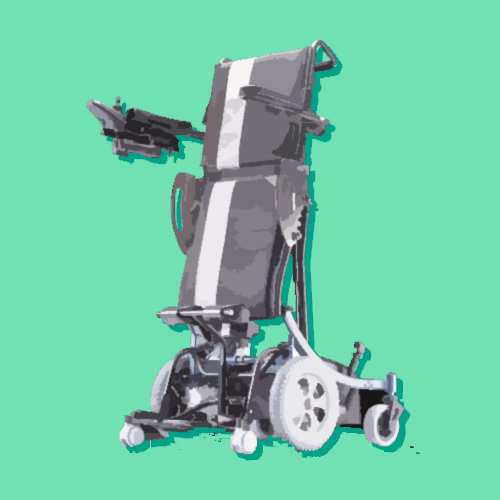 Standing wheelchairs were developed and came in to use mainly because of the health risks the wheelchair users were facing due to the prolonged sitting in a chair.
Over time, this can lead to the stiffening of the joints and muscles in the back area and legs. Also, long term sitting can lead to issues with the ankles, hips and knees as well.
A standing wheelchair is just like any other wheelchair the user can sit on, though its mechanism allows the upper body of the wheelchair to be raised into an upward standing position.
These wheelchairs are available both in manual form, where the user has to manually propel the wheelchairs or motor driven, where electricity and power is used to propel the wheelchair.
Standing wheelchairs can be quite expensive! Especially powered models, that can cost up to ten thousand dollars.
One great standing wheelchair is the Karman XO-505 Fully Powered Standing Wheelchair:
Tennis Wheelchairs
Specially designed and improved for Tennis, Tennis wheelchairs have a light weight, easily maneuverable frame design that allows the players to move rapidly and change positions.
These wheelchairs are high in price as well, making it difficult to afford for someone with a moderate budget, yet they are made to last long and perform under tight and tough conditions.
In addition, these wheelchairs can be adjusted to work on grass courts and clay courts, making them much easier for players to adapt to the different forms of the game.
The high price of this type of wheelchair is mainly because of the material used, and the customizing options available.
Just like any other sports related wheelchair, tennis wheelchairs are made specifically for the requirements of each individual player.
Example: SportAid Wheelchair Tennis Chair
Tilt Wheelchairs
Tilt wheelchairs are a type that allow the user to tilt or to adjust the back stand of the wheelchair to any angle that is comfortable to them. This is often up to 30 degrees of 60 degrees depending on the model of the wheelchair.
Tilt wheelchairs are available in both manual and electric powered models, and are made of strong steel and alloys, heavy but durable.
However, these wheelchairs are not optimized for portability, as they lack the ability to be folded and are usually difficult to be stored in or maneuvered around tight and confined spaces.
Example
Transport Wheelchairs
Transport wheelchairs are designed to be pushed by another person and not designed for self-propulsion. Unlike the standard, regular wheelchair, transport wheelchairs do not typically have two large wheels and instead have four smaller wheels.
Transport wheelchairs are designed for temporary usage and not for a permanent user. Ideally, its for people who can walk yet gets tired quickly or to people who find it difficult to walk long distances.
Furthermore, transport wheelchairs can be folded easily and stored in small and tight space. As they do not have the large, heavy wheels, transport wheelchairs are much lighter and portable than their standard counterpart.
An example of a transport wheelchair is the previously featured Medline Transport Wheelchair:
Articles You May be Interested In: